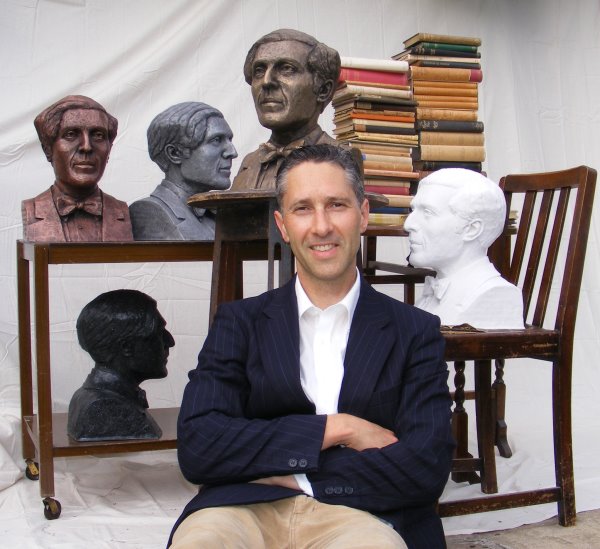 About Anthony
Anthony Padgett is a writer and artist with an MA in the Theory of Contemporary Art from Wimbledon School of Art. His art has featured on BBC Radio 4, the Guardian, the Times Educational Supplement, The Times Online and The Mail on Sunday.
1990 to 1997. Anthony studied Philosophy, taught Religious Education and became a stone conservator for the Israeli and Palestinian Departments of Antiquities.
1998 to 2015. He organised a large number of exhibitions in London, won an Art Technology award and was a finalist in the International Jewish Artist of the Year Awards 2004. He has given talks at the Studio Art School in New York, the Institute of Contemporary Art in London and at Tate Modern. His award winning Millennium-Angel sculpture was the result of £150,000 computer manufacturing sponsorship and is sited at Leighton Hall, Lancashire (www.millennium-angel.co.uk). His Praying Shell sculpture is sited on Morecambe Bay (www.prayingshell.co.uk). His sculptures of the poet Humbert Wolfe are at Eccleston Square (London), Wadham College (Oxford), the Berg Collection (New York Public Library) and in Bradford.
Present – Anthony organises dance events
Anthony Padgett's titles are
"War of the Poets"
"The 5 Heads of Humbert Wolfe"
"GROW-FLOW Coaching - A Mindful Approach"
"Great Gatsby Revisited"
"Tales From The Old Coffee House"
"Murder At The Midland Hotel"
"Salsa Most Foul"
"How To Set Up A Successful Dance Class (In 6 Easy Steps)"
"The Rainbow Swastika Conspiracy"
"The Millennium Angel"
"Religion and Contemporary Art"
"Divinityland"
"The Religious Contemporary Art of Anthony Padgett 1994-2006"
All books are available on Amazon.
Click here for the AMAZON listing.
Please send enquiries about the novel to:
anthonydpadgett "@" yahoo.co.uk
N.B. All books are self-published via www.Lulu.com.