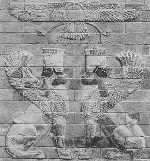 Persepolis was an ancient centre of technology and learning that influenced our modern ideas.
The Jews were in exile in Persia in 500BC where archaeologists argue that the idea of Monotheism arose. Jewish and Greek though formed a basis for Christian though.
It is both this faith in Monothesim and a Greek following of reason that influenced Western society.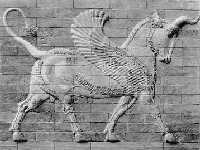 The sculpture echoes images of the bearded man, the lion, the ox, the scroll and the wings.

The incorporation of the lion, the ox, the eagle and a human represents the attempt to transcend our animal selves via the wings to a mystical consciousness.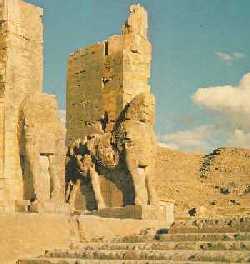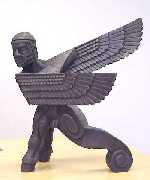 The work looks optimistically to the future but warns that we must not be like Icarus (who in Greek myth tried to fly too close to the sun). It represents the idea of trying to hold a concept of God that is too large to grasp.



THE SYMBOLISMS LINKS US TO AN ANCIENT TECHNOLOGICAL SOCIETY.

THE METHODS AND SURFACE FINISHES OF THE COMPUTER MANUFACTURING LINKS US TO OUR FUTURE SOCIETY.

The winged figure symbolises that we need to transform technological worship into something more spiritual. It questions the need of a human in making large sculptures.
For more details of the Artist's symbolism see
Design and Artists
HOMEPAGE