ABOUT THE ARTIST (with links)
Anthony Padgett.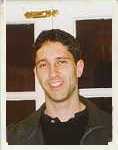 Studied Philosophy at York University 1987-90
Trained as a teacher of Secondary School Religious Education 1992.
Trained in the Conservation of Architectural Stonework 1993.

Worked with the Israeli Antiquities Authority 1995 and 1996.
Worked with the British School of Archaeology in Jerusalem 1996.
Worked with Palestinian Department of Antiquities 1997.
Computer illustrator at Lancaster University Archaeological Unit 1997-9.
Intern computer drawing through the International Council of Monuments and Sites at the Historic American Buildings Survey, Washington D.C. 1998.

A computer artist-in-residency at Loughborough University 1999-2000
MA in the Theory of Contemporary Art & Performance, Wimbledon School of Art 2001-2004

Numerous Group and Solo Exhibitions from 2000-2006, including:
Winner - About Vision Art & Technology Award, London 2002
Finalist - International Jewish Artist of the Year Award, London 2004
A-foundation Commissioned Artist - Liverpool Biennial 2004
Performer - Edinburgh Fringe 2005
Design and Artists
HOMEPAGE