click for DHTML animated page
Scanning
Probe scanning uses a probe to trace the contour of an object. The probe then moves on a fraction of a millimeter and records another contour. If the original sculpture was not cut into sections then the probe and the laser would not be able to scan under the legs. The areas where other bits of sculpture are in the way and are termed "under-cuts".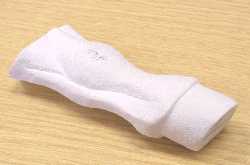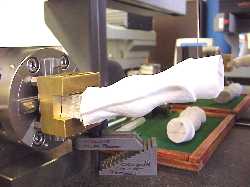 The front legs have been probe scanned by Renishaw Here the probe scanner can be seen scanning the legs.

Manufacture
Components are scanned on 4 sides and then the final images are joined together. These will be used directly to programme "cutter-paths" for CNC (Computer Numerate Controlled) 3-axis milling machines. These machines are automated "drills" with coarse and fine heads that move 1) up/down, 2) back/forward, 3) left/right. Some machines require the scanned data to be turned into special surfaces before "cutter-paths" can be programmed. The material being used in the project is a dense fibre called Cibatool BM 5120 that is manufactured by Ciba Speciality Chemicals. The legs are being made by Yuasa Warwick Machinery Limited after programming in "Hypermill" from Open Mind Software Technologies who are using mesh surfaces created by Alta Systems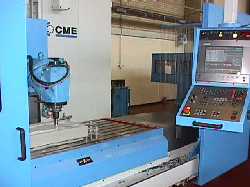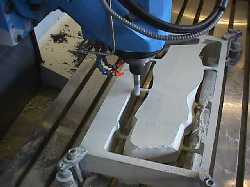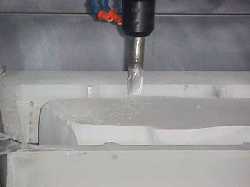 The Ciba board was held by the machine and milled in 4 sections for each leg. These sections will be glued together when completed.

Finished Parts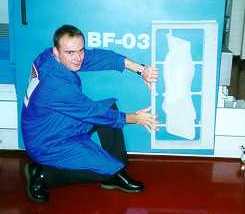 The final sections are not yet finished. Tony Dale is holding one of the finished sections.